ISSN print edition: 0366-6352
ISSN electronic edition: 1336-9075
Registr. No.: MK SR 9/7

Published monthly
Photochemical route for the synthesis of novel 2-monosubstituted pyrido[2,3-d]pyrimidines by palladium-catalyzed cross-coupling reactions
Yassine Riadi and Mohammed Geesi
Prince Sattam Bin Abdulaziz University, Al-kharj, Saudi Arabia
E-mail: yassinriadi@yahoo.fr
Abstract: A novel and effective route for the synthesis of 2-monosubstituted pyrido[2,3-d]pyrimidines is reported starting from the corresponding 2-halogeno- and 2-methylsulfanyl-pyrido[2,3-d]pyrimidine through a palladium-catalyzed cross-coupling has been described. The reaction involved original halogen discrimination under visible light as an alternative source of energy. Alternatively, monoarylated compounds were elaborated from 2-halogeno pyrido[2,3-d]pyrimidine by C2 chlorine further displacement and from 2-methylsulfanyl-pyrido[2,3-d]pyrimidine by C-alkylsulfanyl release. We have described the first synthesis of mono substituted pyrido[2,3-d]pyrimidine series using a two strategies using visible light as a powerful synthetic tool for the preparation of focused libraries of biologically active compounds. The use of available starting materials, easy reaction conditions and catalytic processes combined with high yields of products are the main outcome of this method.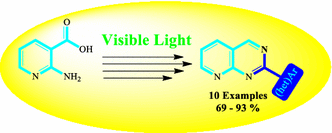 Keywords: Palladium ; Pyridopyrimidines ; Cross-coupling ; Halogen discrimination ; Monoarylated ; Visible light 
Full paper is available at www.springerlink.com.
DOI: 10.1007/s11696-017-0325-2
Chemical Papers 72 (3) 697–701 (2018)
Saturday, October 23, 2021