ISSN print edition: 0366-6352
ISSN electronic edition: 1336-9075
Registr. No.: MK SR 9/7

Published monthly
Antioxidative, anticancer, and antibacterial activities of a nanoemulsion-based gel containing Myrtus communis L. essential oil
Ghazaal Roozitalab, Yaser Yousefpoor, Abbas Abdollahi, Mojdeh Safari, Fatemeh Rasti, and Mahmoud Osanloo
Noncommunicable Diseases Research Center, Fasa University of Medical Sciences, Fasa, Iran
E-mail: m.osanloo@fums.ac.ir
Received: 20 January 2022 Accepted: 16 March 2022
Abstract:
Myrtus communis L. is a common medicinal plant with a wide range of biological properties. In this study, an attempt was made to improve its essential oil's antioxidant, anticancer, and antibacterial activities by preparing a nanogel dosage form. Alpha-pinene (29.7%), 1,8-cineole (25.8%), linalool (9.1%), linalool acetate (5.9%), and geranyl acetate (3.4%) were identified as five major compounds in the essential oil using GC–MS analysis. Optimum nanoemulsion with a droplet size of 179 ± 7 nm and a narrow droplet size distribution (SPAN 0.96) was gelified by the addition of carboxymethyl cellulose (3 w/v %). The rheometry analysis at shear rates of 0.1–100 1/s showed the viscosity was fully fitted with the Carreau-Yasuda model. The nanogel with IC50 132.6 µg/mL was 4 folds more potent than the bulk essential oil (IC50: 580.8 µg/mL) against A-375 melanoma cells. Besides, after treatment of Escherichia coli and Staphylococcus aureus with 1000 µg/mL of the nanogel and the bulk essential oil, their growths were observed at 37.5 and 59.1% as well as 21.4 and 40.6%. Besides, antioxidant activity was investigated using DPPH assay; the nanogel was significantly more potent (P < 0.001) than that of bulk essential oil at all examined concentrations (62.6–1000 µg/mL). Furthermore, polyethylene oxide-gelatin electrospun nanofibers (diameter of 359 ± 36 nm) with no effects on the cancer cell and the bacterial growth were proposed as lesion dressing after-treatment with the nanogel. Therefore, the stained nanofiber with the nanogel could be considered a natural potent anticancer and antibacterial agent in vivo study.
Graphical abstract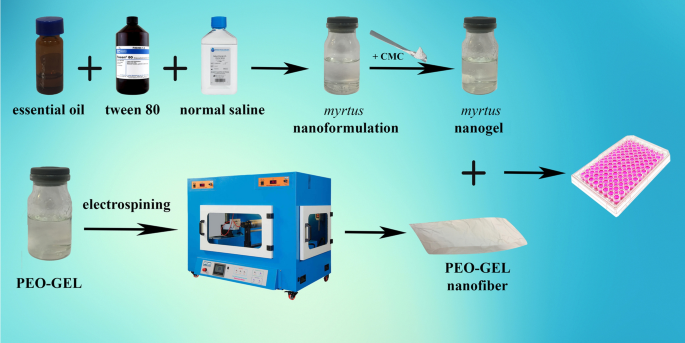 Keywords: Antimicrobials; Electrospinning; Nanotechnology; Nanogel; Antitumor
Full paper is available at www.springerlink.com.
DOI: 10.1007/s11696-022-02185-1
Chemical Papers 76 (7) 4261–4271 (2022)