ISSN print edition: 0366-6352
ISSN electronic edition: 1336-9075
Registr. No.: MK SR 9/7

Published monthly
In situ synthesis of bimetallic γ-Fe2O3/Cu nanoparticles over pectin hydrogel obtained from biomass resource (orange peel) as a reusable green catalyst for oxidation and C-S cross-coupling reactions
Nasrin Yarmohammadi, Mohammad Ghadermazi, Zohreh Derikvand, and Roya Mozafari
Department of Chemistry, University of Kurdistan, Sanandaj, Iran
E-mail: mghadermazi@yahoo.com
Received: 10 December 2021 Accepted: 7 March 2022
Abstract:
The incorporation of nanoparticles into the hydrogel matrix empowers the development of innovative catalytic materials with improved properties. Pectin is a heteropolysaccharide containing a large number of hydroxyl, carbonyl, and carboxylic acid functional groups that were selected as suitable support. Then, in the presence of calcium chloride pectin hydrogel was prepared by physical cross-linking. After that, the iron and copper nanoparticles were loaded on their surface and used as an efficient and biodegradable catalyst. The synthesized bimetallic nanocatalyst was characterized via FESEM, VSM, TGA, ICP, XRD, EDX, BET, TEM, and FT-IR techniques. The morphology and structure studies revealed that pectin matrix hydrogel can efficiently load nanoparticles and also prevent the agglomeration of nanoparticles. Catalytic performances of γ-Fe2O3/Cu@HPECGs nanocomposite were investigated in the oxidative coupling of thiols to disulfides in the presence of hydrogen peroxide (H2O2) as a green oxidant. In addition, γ-Fe2O3/Cu@HPECGs nanocatalyst can synthesize symmetric sulfides in a one-pot method with thiourea as the sulfur source under mild conditions. In comparison to pure iron nanoparticles, the addition of Cu nanoparticles increased the catalytic efficiency. These procedures provide applicable strategies with yields as high as 90% and high selectivity. This bimetallic catalyst can be recycled nine times without changing its structure, activity, and selectivity.
Graphical abstract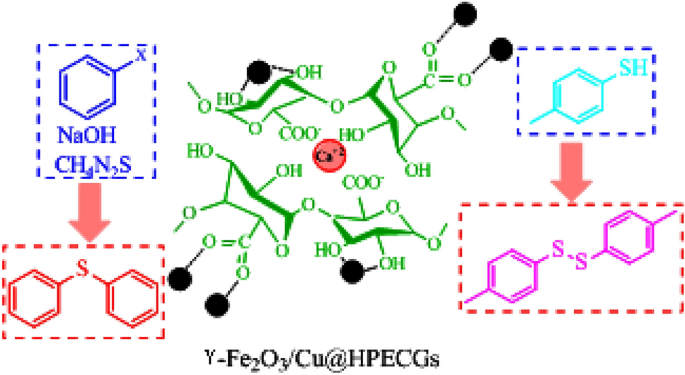 Keywords: Pectin; Hydrogel; Heterogeneous catalyst; Nanocomposite; Disulfide; Symmetrical sulfide
Full paper is available at www.springerlink.com.
DOI: 10.1007/s11696-022-02174-4
Chemical Papers 76 (7) 4289–4307 (2022)