ISSN print edition: 0366-6352
ISSN electronic edition: 1336-9075
Registr. No.: MK SR 9/7

Published monthly
AuNP-/rGO-/GCE-based molecular imprinted electrochemical sensor for rapid and sensitive detection of coumarin
Xiaoyu Zhao, Zhenni Guo, Yongdan Hou, Lemuel Gbologah, Shue Qiu, Xiangdong Zeng, Ruge Cao, and Juankun Zhang
Tianjin Key Laboratory of Brine Chemical Engineering and Resource Eco-Utilization, College of Chemical Engineering and Materials Science, Tianjin University of Science and Technology, Tianjin, China
E-mail: rgcao@tust.edu.cn
Received: 6 September 2021 Accepted: 2 November 2021
Abstract:
A sensitive molecular imprinted (MIP) electrochemical sensor for the rapid detection of coumarin was successfully constructed by modifying gold nanoparticles (AuNPs) improved reduced graphene oxide (rGO) on glassy carbon electrode (GCE). The modification of AuNPs/rGO was achieved by introducing/eluting coumarin template molecules. Imprinting parameters (template molecule to functional monomer ratio, pH value of electro-polymerization solution, polymerization cycles and types of eluent) of the sensor were experimentally optimized. The prepared nano-materials were characterized by scanning electron microscope (SEM), energy dispersion spectrum (EDS) and transmission electron microscope (TEM). The optimized imprinted electrochemical sensor was characterized by (cyclic voltammetry) CV (electrochemical impedance spectroscopy) and EIS and validated by standard linearity of current–concentration relation. The linear range and the detection of limit (LOD) of the molecular imprinted AuNPs/rGO/GCE sensor for coumarin detection were obtained from 1.0 × 10–7 to 1.8 × 10–5 M and 1.15 × 10–8 M (S/N = 3), respectively. The developed sensor is expected to be widely used in real sample detection due to the desirable features of high sensitivity and stability, and rapid response.
Graphical Abstract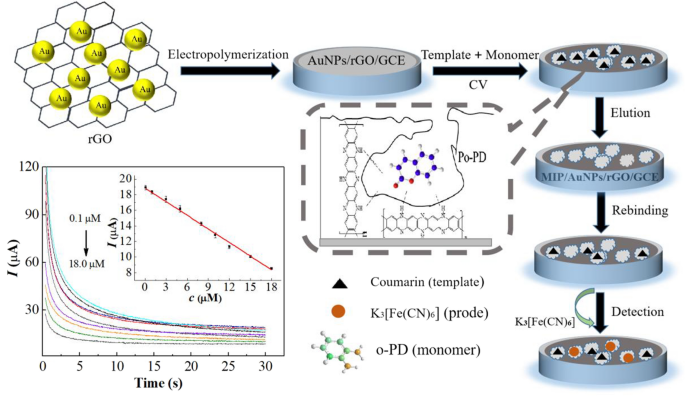 Keywords: Nanocomposite; Molecular imprinted technology; Electrochemical sensor; Coumarin
Full paper is available at www.springerlink.com.
DOI: 10.1007/s11696-022-02139-7
Chemical Papers 76 (6) 3679–3690 (2022)