ISSN print edition: 0366-6352
ISSN electronic edition: 1336-9075
Registr. No.: MK SR 9/7

Published monthly
Pluronic F127-co-poly (2 acrylamido-2-methylpropane sulphonic acid) crosslinked matrices as potential controlled release carrier for an anti-depressant drug: in vitro and in vivo attributes
Hina Shoukat, Fahad Pervaiz, and Sadia Rehman
Department of Pharmaceutics, Faculty of Pharmacy, the Islamia University of Bahawalpur, Bahawalpur, Pakistan
E-mail: fahad.pervaiz@iub.edu.pk
Received: 28 August 2021 Accepted: 12 January 2022
Abstract:
The principal goal of the study was to orchestrate synthetically cross-connected pluronic-co-poly (AMPS) hydrogels by free radical copolymerization technique for the controlled conveyance of Venlafaxine HCl. Pluronic-based hydrogels were developed by blending different proportions of pluronic F127, AMPS, and EGDMA while venlafaxine HCl was selected as an experimental drug. FTIR, TGA, DSC, SEM, and XRD demonstrated the effective grafting of reactants into the crosslinked network. The fabricated hydrogel gave more than 90% drug entrapment efficiency. The swelling pattern represents more than 34% swelling at pH 6.8 whereas, at pH 1.2 it gives up to 17% swelling indicating pH-responsive hydrogel. Similarly, drug release analysis also gave more drug release at pH 6.8 as compared to pH 1.2, that is 98% and 42%, respectively. Kinetics modeling revealed the controlled release trend of venlafaxine in a fabricated gel. Cytotoxicity and compatibility of developed gel to the biological system were examined by conducting a toxicity study on rabbits, which confirmed that the developed gel was non-toxic. Supported with pharmacokinetic evaluations, a stable copolymeric network of pluronic F127 was developed with AMPS as a likely possibility for the controlled delivery of venlafaxine HCl.
Graphical abstract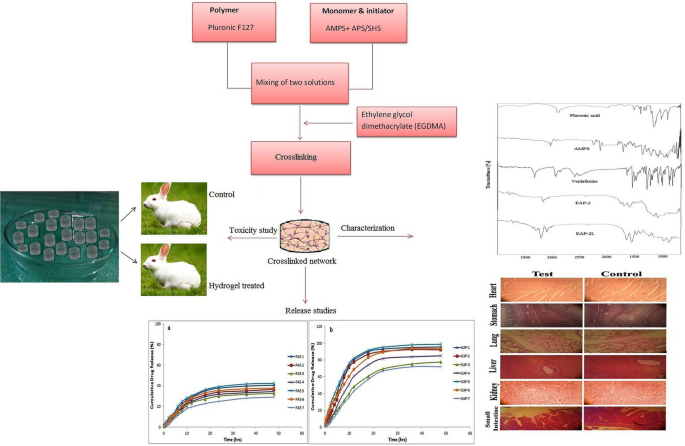 Keywords: Controlled release; Hydrogels; Venlafaxine hydrochloride; Ethylene glycol dimethacrylate; Pluronic F127
Full paper is available at www.springerlink.com.
DOI: 10.1007/s11696-022-02077-4
Chemical Papers 76 (5) 2917–2933 (2022)