ISSN print edition: 0366-6352
ISSN electronic edition: 1336-9075
Registr. No.: MK SR 9/7

Published monthly
Charring of pine needles using a portable drum reactor
Sandip Mandal, Rajat Kumar Sharma, T. K. Bhattacharya, Hetal Tanna, and Juma Haydary
ICAR-Central Institute of Agricultural Engineering, Nabibagh, Bhopal, India
E-mail: sandip.mandal@icar.gov.in
Received: 1 May 2021 Accepted: 21 September 2021
Abstract:
Pine needles are the by-product from the pine forest and cause of wild forest fire. A batch type portable charring drum was evaluated for converting pine needles to char and product gas with an aim to produce good quality char on-site. Char and product gas were characterized for their suitability as biochar and compared with chars derived from electrically heated batch type tubular reactor. The maximum conversion efficiency was found to be 29.3% at 80% loading, 50 m3 h−1 air flow rate and 90-min gasification time. Elemental analysis showed the maximum carbon content of 76.5% in the derived char which was comparable to the char derived at 400 °C. Other chemical properties also resembled the char produced at 400 °C. For good quality char which can qualify as biochar as per the guideline of European Biochar Certificate, gasification time is needed to continue up to 120 min at 60% loading.
Graphic abstract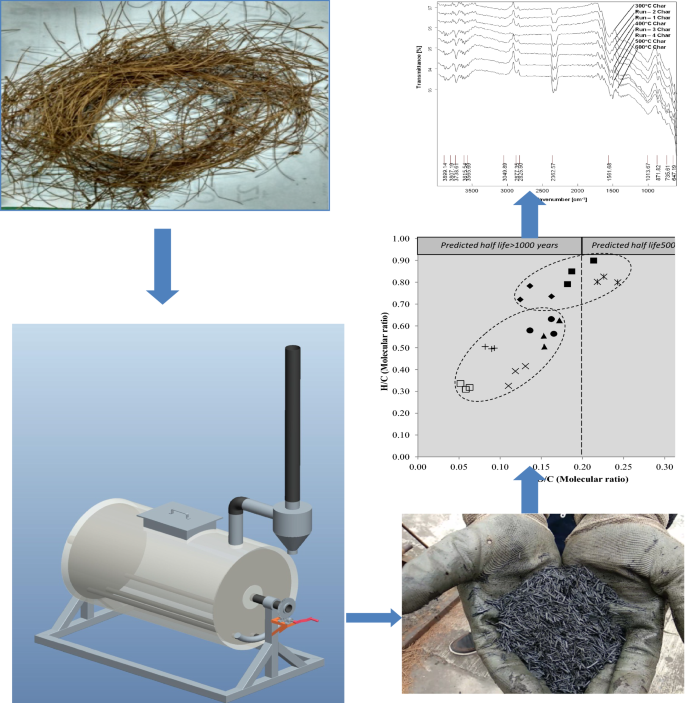 Keywords: Pine needles; Pyrolysis; Charring; Product gas; Charring drum; Van Krevelen diagram; FTIR
Full paper is available at www.springerlink.com.
DOI: 10.1007/s11696-021-01893-4
Chemical Papers 76 (2) 1239–1252 (2022)
Wednesday, March 29, 2023