ISSN print edition: 0366-6352
ISSN electronic edition: 1336-9075
Registr. No.: MK SR 9/7

Published monthly
Tetra chlorobenzoxazolamine nickel (II) phthalocyanine supercapacitor with aqueous electrolyte and MWCNTs
N. Y. Praveen Kumar, Mounesh, T. M. Sharanakumar, and K. R. Venugopala Reddy
Department of Studies and Research in Chemistry, Vijayanagara Sri Krishnadevaraya University, Ballari, India
E-mail: venurashmi30@gmail.com
Received: 29 October 2020 Accepted: 15 January 2021
Abstract:
In recent years, there have been many attempts to reduce the cost of renewable energy storage conversion and devices. To resolve this problem, research works are mainly focused on supercapacitors (SCs), fuel cells, solar cells and also various types of organic batteries. Supercapacitors exhibit conspicuous properties of ability of storing energies, having notable power densities and fast charging and discharging. Electrochemical investigation of Tetra chlorobenzoxazolamine nickel phthalocyanine (NiTCBPc) composite with MWCNTs is done. The product can be structurally characterized by X-ray diffraction, Fourier transform infrared radiation and ultraviolet studies and thermal stability done by thermogravimetric method. The morphological studies done by Field emission scanning electron microscope method, electrochemical behaviour studied by cyclic voltammetry and galvanostatic charge and discharge method. Supercapacitive behaviour of NiTCBPc/GCE and NiTCBPc/MWCNTs/GCE has been studied and got an excellent specific capacitance of 262.4 Fg−1 and 378.25 Fg−1, respectively and with an energy density of 116.28 Wkg−1 and a tolerable cyclic stability up to 1000 continuous cycles. When compared NiTCBPc/GCE with the composites of NiTCBPc/MWCNTs/GCE, the composites of NiTCBPc/MWCNTs/GCE exhibited better supercapacitive behaviour.
Graphic abstract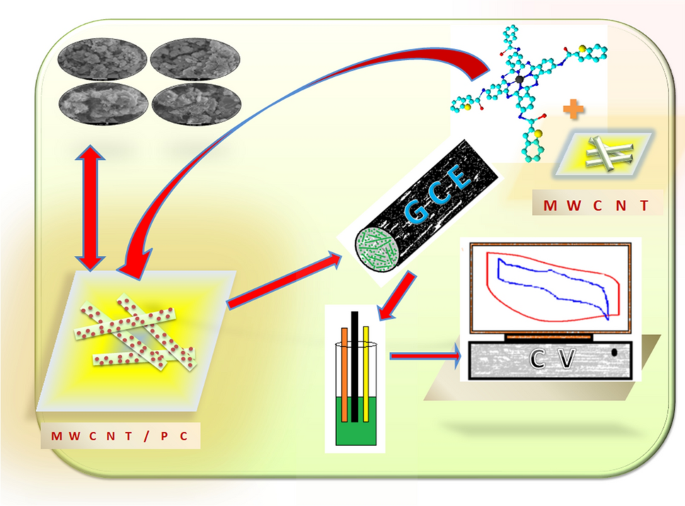 Keywords: NiTCBPc; Cvs; Supercapacitor; FESEM; Mwcnts
Full paper is available at www.springerlink.com.
DOI: 10.1007/s11696-021-01523-z
Chemical Papers 75 (6) 2683–2694 (2021)